A case study on cross-functional skills.
Whether you are aware of it or not, all relationships are a negotiation. Most interactions involve one party persuading the other.
Some of us may seem naturally good at it. Some of us may feel we are really bad at it. This comes as a curious reflection on ourselves because we have been doing these two elements of communication all our lives, yet most of us are not aware of whether we are good at it or not.
But what if I told you that a major factor in effective negotiation and persuasion is understanding personality?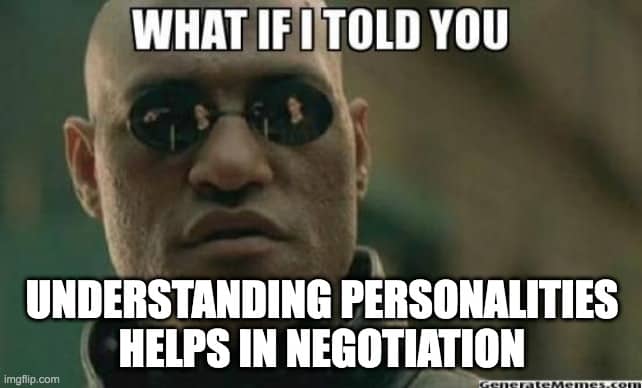 Consider this scenario:
There are four workers in a typical office meeting room. For the purpose of this scenario, they will be called Adam, Bob, Caty and Diane respectively. Projected on the wall are the words "New product brainstorming session".
Adam: "So let's get this started! I have another meeting in an hour!"
Bob: "We get to talk new products? Cool! I've got plenty of ideas!"
Caty: "That's great. How about we get everyone to just voice out some ideas first. I'll note them down."
Diane: "Actually, what product are we supposed to brainstorm on? Who is the product for? How much time do we have? And why are the four of us assigned to this?"
From this point, as you read on, try playing detective and start to identify patterns in the respective workers' words. This way of thinking will help you understand personalities better.
Caty: "Erm, I could check again with my boss on those details. Give me a second."
Adam: "It's alright. We're here now. We know our current products. We know our current clients. Let's just get 1 new idea out per person now!
Bob: "How about an app that parents can use to limit children's screen time? We can collaborate with phone makers, get access to their cameras, and detect whenever a child is using the phone. Then when the kid is on the screen for more than 15 minutes, IT SHUTS OFF!"
Diane: "How are we supposed to propose this idea to phone makers? We make apps, but phone makers are big global organisations. What are the tech limitations, ethical concerns, and legal issues involved? Pretty sure we need more information on this."
Adam: "At least there's one idea now! I think let's just look at other apps around and enhance our current products with more features. That's faster and easier because we are just adding on instead of creating something new!"
Caty: "Okay, good. Ideas are coming. No need to get too excited or raise voices now. I believe if we put our heads together we can come up with interesting new products."
Bob: "Oh, I know! You know our children's language learning app? Let's beef it up with language A.I and text-to-voice features so it can role play with the children as an in-built assistant!
Adam: "That does sound great! Caty, write that down! A.I and text-to-voice enhancements for our app!"
Caty: "Yes, I agree. It sounds very intuitive and people-oriented."
Diane: "Hmmm, I suppose we could get started there. But as of now, do any apps we have use A.I or text-to-voice features? Where is our tech team on their A.I R&D? Do we know anyone on the team familiar with text-to-voice?"
Caty: "Diane is right. Maybe we should get our tech team involved here as well."
Adam: "Getting them in will take another 20 minutes. I don't have time for that. Get someone to work on the specifics later. If I can get 3 good ideas from this brainstorming would be good enough. The more the better!
So, dear detective. Have you noticed any patterns in speech yet?
Maybe you have noticed that Adam seems to be in a rush. He just wants to get things done, fast. Or how about Bob who has ideas, but the ideas are quite radical and extraordinary. Maybe you have noticed that Caty, on the other hand, uses a lot of 'everyone', 'our' and wants to get others involved. Diane's speech is quite obvious. They're mostly questions or raising concerns that need more information.
These are four common personalities that are identifiable through their preferred communication styles.
According to the Occupational Information Network (O*NET) under the U.S. Department of Labor/Employment, cross-functional skills or often referred to as "social skills" include:
Coordination, instructing, negotiation, persuasion, service orientation, and social perceptiveness.
Based on feedback from over 7,000 learners on skills they need/desire to improve on, operations staff and managers are increasingly aware of the dwindling levels of "social skills" due to the pandemic. If negotiation and persuasion pre-pandemic was not challenging enough, the workforce now faces remote working and hybrid teams on top of it all.
Hence the title above, "Why we all need better negotiation and persuasion skills".
Now back to our scenario, imagine that Adam for instance knew the preferred communication styles of each of his colleagues. He could have negotiated with the team to achieve results faster and persuaded them to focus and get things done within the hour.
Adam: "Alright, guys. We're here to brainstorm on new product ideas. We have one hour. And we need 3 new ideas. Bob, keep your ideas to apps we already have and features we have in the pipeline. Diane, throw questions whenever you see fit, but let's have solution-oriented questions rather than questions that lead to more questions. We can arrange another session for specifics. Caty, could you help us take notes, please?"
This may sound like an ideal situation. But nothing is stopping us from making big parts of this imaginary scenario very real and productive for ourselves. We can and should boost our overall cross-functional skills, especially negotiation and persuasion to enhance collaboration amidst the new normal.
D Jungle People's Power Communication programme helps equip learners with an understanding of the basics of communication, personalities, with new insights based on the challenges of today's workforce and also provides a safe avenue to immediately put concepts into practice.