"Someone who asks 'How was your day?' and means it." – That's how one of our participants described empathetic leadership.
It was that simple to her, yet the simplest of these encounters are the ones we remember: it's not a show, a slogan, a "feeling", nor is it just a personality trait.
Through our encounters with executives, managers and senior leaders, we focus often on shaping learning experiences that help people work better with each other.
While organisational performance is always the key goal, empathy is often misunderstood as a feel-good fuzzy or just a personality trait.
We often forget that it's an essential competency in people management as one rises through the leadership pipeline, both for line managers and for senior leaders, with a real impact on business.
The Empathetic Leadership Matrix
In high-power distance cultures, such as Malaysia, empathetic leadership creates a sense of support and protection, directly impacting job performance.
The Friendly Boss, Strict Boss and Efficient Manager are easily identified in this matrix, as many participants encounter versions of these bosses in their careers.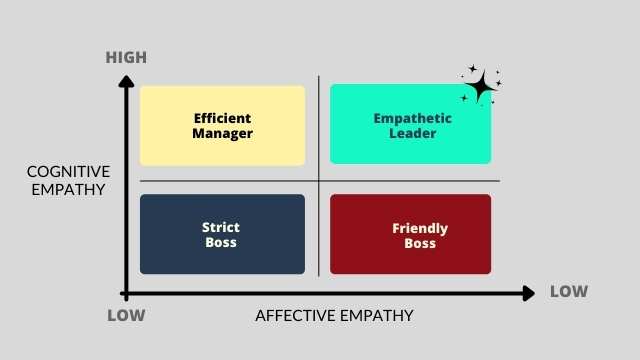 Yet, when presented with this matrix, it's clear that there are two types of empathy that make the mix of personalities.
Cognitive empathy refers to the ability to recognise and understand people and their emotions, while
Affective empathy is the ability to recognise emotions and the impact of actions and context.
Being empathetic is essential for building trust and psychological safety, and this helps leaders produce better business outcomes.
Friendly Bosses might not have as much cognitive empathy; while Efficient Managers may lack affection.
Empathetic Leaders demonstrates flexibility and very likely applies situational leadership. They cultivate a strong pipeline of performers, inspires loyalty, commitment and motivation.
While this might be ideal, this leader might not exist in your organisation. Leaders might be set in their ways of managing performance or people, or simply too stubborn to change their ways.
We believe that the incentives for change might persuade a shift based on this recent study by Catalyst, Leveraging Disruption for Equity.
Empathetic leadership and positive business outcomes
Surveying close to 900 employees in the US, respondents with senior leaders or managers with high empathy report that empathy is good for business.
Here are the key findings:
While this survey was made in the US, these insights are applicable across most organisations.
Innovation & creativity: Employees report being more creative and engaged
Reduce burnout: Employees experience less burnout when they have highly empathic leaders
Value & respect: Employees feel like their perspectives and experiences matter
Life & work needs: Employees can better balance work with family and personal obligations
Retention: When senior leaders invest in creating a supportive and inclusive work environment, employees in turn are likely to invest in the organization.
Learn how Strategy is Execution: the best teams spend 54% more time planning; under-performers spend 83% more time fire-fighting.