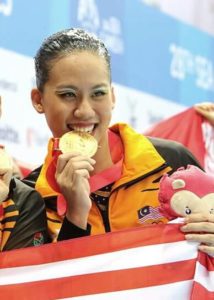 National synchronized swimmer
2015 SEA Games gold medallist
"To me, there is always room for improvement."
Watch Zylane at the recent German Open in Bonn
1. What was your most challenging moment?
While training for the 2011 SEA Games, my teammate accidentally kicked me in the head several times causing a spinal injury. I was told by three doctors to stop swimming even though the event was one week away. One of them said: "Don't risk it because one more kick and you can get paralyzed". It was a difficult decision for me to continue swimming. In hindsight, it was the right move. I won a gold medal in the 2015 SEA Games in Singapore, participated in the Asian Games in Incheon and also World Championship in Kazan. If I had quit, I wouldn't be one step closer to my dream which is to qualify in the Olympics.
2. How did you overcome it?
Thankfully I have a supportive family. At that time my older sister was in the same team so she looked out for me. My mom respected my decision although she didn't like the idea of me swimming again. She gave me her full support and offered advice when possible. From there I gained confidence and have been able to move forward with no regrets.
3. How did you train your endurance?
I force myself to train even when I don't feel like it. Training for seven hours a day for six days a week is tiring and sometimes boring but I push myself to go for all of them. I've been training like this for 14 years and every time I train, I get a chance to improve. I will polish my routine even if it's already polished. To me, there is always room for improvement. That's another reason that drives me to train every day.