With a great sense of justice and faith in God, Hannah Yeoh beat a path into a political career that spans over 10 years inspiring the young to follow her. As one of the most watched young politicians this newly appointed Malaysia's Deputy Minister Women, Children and Community forges on to blaze a trail towards implementing reforms.  – By Tan Ju-Eng 
If you follow Hannah Yeoh on her Facebook you will find that she is equally committed to her family as she is to her constituents of Segambut.
She shares her two daughters' antics with relish and advocates balanced career and family life. "Family time has to be intentional otherwise it's only about filling up our schedule. Empty slots on your schedule will not always be empty if you don't intentionally make it empty.
"And so for a working mother, I believe for anyone who's working, your empty slot is your rest time and for me it's not just about me resting but I need to spend time with them (two daughters) so I have to create that empty slot for them," said Hannah.
Since the beginning of her career in politics, as the youngest and first woman speaker in the country, Hannah has ensured that she did not sacrifice time with her family. And this was how she served her constituents in Subang Jaya for 10 years as twice elected state assemblyman.
Journey began with a vote
Ten years ago the young Hannah, a struggling junior lawyer, joined the Democratic Action Party (DAP). "Corruption in this country made me very angry especially when I read the news. I thought there must be something we could do. I was inspired by my friend to register as a voter and that was exactly what I did. Just before the elections there was an opening for me to be a candidate for my hometown Subang Jaya and I accepted.
"I did a bare minimum. I signed up as a voter, voted on that day and as a Malaysian I am given the right to stand for election if I wanted to. I exercised that right. When I was re-elected into Subang in the second term and was made speaker of the house, I knew there was a lot that I could actually do and it was for me to prove the political will to implement reforms.
"And also to show the fact that a young mother can actually juggle this role in politics and at home. I was just out of confinement and my baby was barely 2 months old when I stood for elections again in 2013. I need to go through this to tell other women that you can too and you will come out of it ok."
Since then, being the voice to speak up for children's welfare has been one of Hannah's political goals.
Instincts and initiatives
"The instinct of a mother is so strange. I could hear a child crying on the opposite side of the road even though it's a different child, it was a malay boy crying (but) I could hear it as though it was the cry of my daughter. That's the instinct of a mother.
"I want to make use of that instinct in politics to influence policies that will benefit Malay children, Indian children, Kadazan, stateless children … who is going to be their voice? I want to be that voice for these children."
However, on her personal front, keeping family together and politics away from them was indeed a challenge.
"My husband and I are very mindful that my daughters do not choose politics. We keep them away from the work that I do as much as we can but we teach them about human rights and helping the poor by observing me . My eldest one said she wanted to be like me when she grew up. For me it's about priority and putting aside family time. I try to make time for them even if it's two hours a day. Like picking them from school and doing things on my own with them. I need them to relate to their early years with 'my mum, even though she was so busy, she bathed me.'
"My husband is a pastor and we watched the effect of ministry or work on children of pastors and politicians and it's very scary to work so hard and yet have kids who will one day grow up despising the work that you do. My husband and I, either one of us would try to be around.
A rocky beginning

Keeping home in order is not quite enough to prepare them for a politician's life. Challenges from the outside were always beating down on them. "My girls are 5 and 7. We had a rocky start. My husband is Malaysian Indian and I am Malaysian Chinese.
"When our first child was born we decided to challenge the system because I didn't want Mykad to define or limit my girls." Hannah believes that people should not be judged by the race, as denoted by which race box they check in the Mykad application but instead by who they are inside and what they could do.
"I was accused politically of ethnic cleansing and that I wanted to wipe out the Malay race and the chinese said I was only proud to be a chinese and didn't want my daughter to be labelled as Indian. Nasty cyber troopers were writing and blogging about my daughter's name. As a mother I struggled reading those nasty comments, you know they talk about children of mixed marriages and how their blood is not superior, not original."
They didn't give up and tried challenging the system again after their second daughter was born. "But this time we found out they had removed the columns from the form. They don't allow you to choose anymore they automatically print out according to the race of the father." To help get the people to fight for what's right there is a lot needed to instill and change mindsets of Malaysians and not just about changing the government.
Big move to Segambut
Just as Subang Jaya was turning into her comfort zone with support of facilities and councillors for the position as a speaker and assemblyman, Hannah was plucked out to stand for elections in Segambut. Being a member of parliament would having to do everything herself from dirty drains to land matters.
"Everybody said: 'you are so stupid to leave behind facilities because you will never make it to Putra Jaya. Pakatan will not win and you will only end up becoming an opposition with no resources, how are you going to carry out your work?
"It was a gamble for us to take the risk but if you don't take risk you cannot achieve anything. I decided to leave the comfort zone and so now I am out of the comfort zone and look at where we are. We are now in government in PutraJaya!
"It takes a lot of faith to see the unseen and to pursue it. And also to be willing to pay the price." Many tough days followed. "…like many young people, there were days when I didn't feel like going to work. (Especially) working when you don't have control of the outcome. It's different from working in a corporation where if you put in the hard work you will win but not when you are against a system that is corrupt, where they constantly redraw the boundary or change the goal post.
"For me, my faith in God really helped me to get up every morning to go to work. People cannot reward me but my God can see."
It's a calling to serve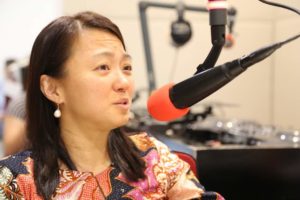 After serving Subang Jaya for two terms, Hannah believes that public service is a calling. "I don't do it to win elections because I owe it to the people. Some people serve only the voters. For me, if you live in that area and is a resident in, even if you are a foreign worker, if I can help you I would want to help you because that's my responsibility.
"Some people are driven by the good things but I am driven by a sense of injustice. The greater the injustice, the more I want to stay in this because I know politics is really about occupying space.
"If a clean person can occupy this space, Subang Jaya for example, then I know in Subang Jaya no nonsense can happen. It's about righteousness occupying the space so that corruption cannot grow.
My changing perspective 
"In 2003, I was in a in Australia and I  read about Mahathir handing over premiership to Pak Lah and I grew up in the sekolah kebangsaan (national school) system, learnt about Bapa Pembangunan, I was so proud of Mahathir that time.
"Then when I entered politics I found out, oh my gosh, all these structures, all these systems and that he was partly responsible for it. And then to move from that to now, embracing him again, and seeing what he's saying and doing at his age and I learned to be fair in my criticism.
"I cannot do what he is doing now at the age of 93 and to have endured what he has to go through in the last year. I have a new level of respect for him because I cannot pay the price as he did at the age of 93. To say sorry and to work with your opponents.
"I tell people go beyond personalities and if personalities reform themselves and they commit to your struggle and they believe in what you do and come along side you and say I'm sorry and now I want to do what is right we must have a big heart and move forward as a nation. How many people had to give up their rights and their ego to do that?
"Mahathir, Anwar Lim Kit Siang and the children of these politicians had to do that. There is a price for everybody to be where we are today. And therefore, the lessons I have learnt is not to be confined to time and circumstances you see today. Learn to move forward as a nation. It was so emotional for us to see him being sworn in especially my generation, those who are in their 30s, we grew up and we see it happening before our eyes again. Just to be able to tell our children that one day you'll be proud of your school system again. One day, you'll be happy to go to a government school again. Or just to be able to say I am a Malaysian and I'm proud of it."
Youth and politics
Even though not everyone is cut out to be a politician but Hannah feels it is vital for everyone to have a say in policy making and in politics. "If you stay away from politics and you think nothing they do will affect you then you are so wrong because that's how things can turn from bad to worse."
She advised young people to take an interest in politics by engaging politician via the social media and if what they say is right, politicians would take that into account when they make their decisions.
"In this New Malaysia we all want a joint responsibility to shape the rebirth of this nation and therefore I think every time that you are tempted to take an easy way out of a situation (such as paying RM100 to cut queue) you would think twice about how this culture would affect this Malaysia. If everybody refuses shortcut and do the right thing then I think we will be known again as a nation that upholds right values and rejects corruption."