By Michelle Lim
At age 19, Steven Steel (Tey Feng Nian) already has a Wattys Award (2015) under his belt for his sci-fi fiction novel – Someone's In My Head – sold in major bookstores across the country. The Penangite who is currently in Kuala Lumpur to further his studies, tell us about some of the struggles of being a young author and the lessons he has learnt along the way.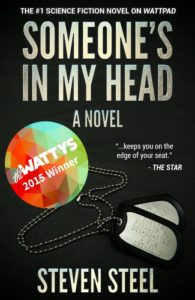 1. It was tough to garner sufficient funds for the printing of my books
Since I was going with the self-publishing route, I had to take care of all the printing and distribution fees, and being the 18-year-old-teenager-who-just-graduated-from-high-school that I was, I didn't have enough savings to pay for the fairly huge down payment. Family & friends play an important role in terms of support. My dad gave me a loan to cover half of the printing costs which I vowed to return to him within a month of receiving my printed copies.
2. I struggled to maximize the sales and distribution of my book on my own
I approached several high schools in Penang (including my former high school, Chung Ling) and found that people were incredibly supportive of me. Things got better when I sought for help in the industry. With the help of my publisher, I sent several quotations to the major retail bookstores around Malaysia and a year later, I'm grateful to have my books on shelves at some of the largest bookstores in Malaysia like Popular, MPH, Fixi Books, GerakBudaya and Bookzone.
3. Writer's block is inevitable
I had my fair share of writer's block, where I sometimes get really frustrated and even hopeless, doubting my ability to see my story all the way to the end. What I learnt is to take a step back and get inspired through these methods – reading a book, watching a short film, going for a brisk walk or try retracing your steps – go back a few chapters and find out what went wrong along the way.
4. Editing is perhaps one of the toughest part of the process
A lot of effort goes into transforming a first draft into the flawless, spotless final draft that will be sent to the publisher for printing. Most important lesson learnt: DO NOT be hasty when it comes to editing. Don't try to speed things up – editing cannot be done overnight, and get a professional's help.