A fitting example on the lack of data-centric leadership is in how our daily diet of Covid-19 related reports have increased: infectivity, vaccination, death and hospital occupancy rates.
Yet, decisions made in our lives are not for the lack of data; it's the lack of data-driven decisions.
Here are three key insights that underscore the importance of people, culture and leadership when planning for an uncertain future.
#1 – Culture still eats strategy for breakfast
There is no shortage of advice on how to become more data-driven.
A New Vantage survey (.pdf, New Vantage – Big Data & AI Executive Survey) reports that cultural challenges — not technological ones — deter organisations from extracting meaningful value from their Big Data and AI initiatives.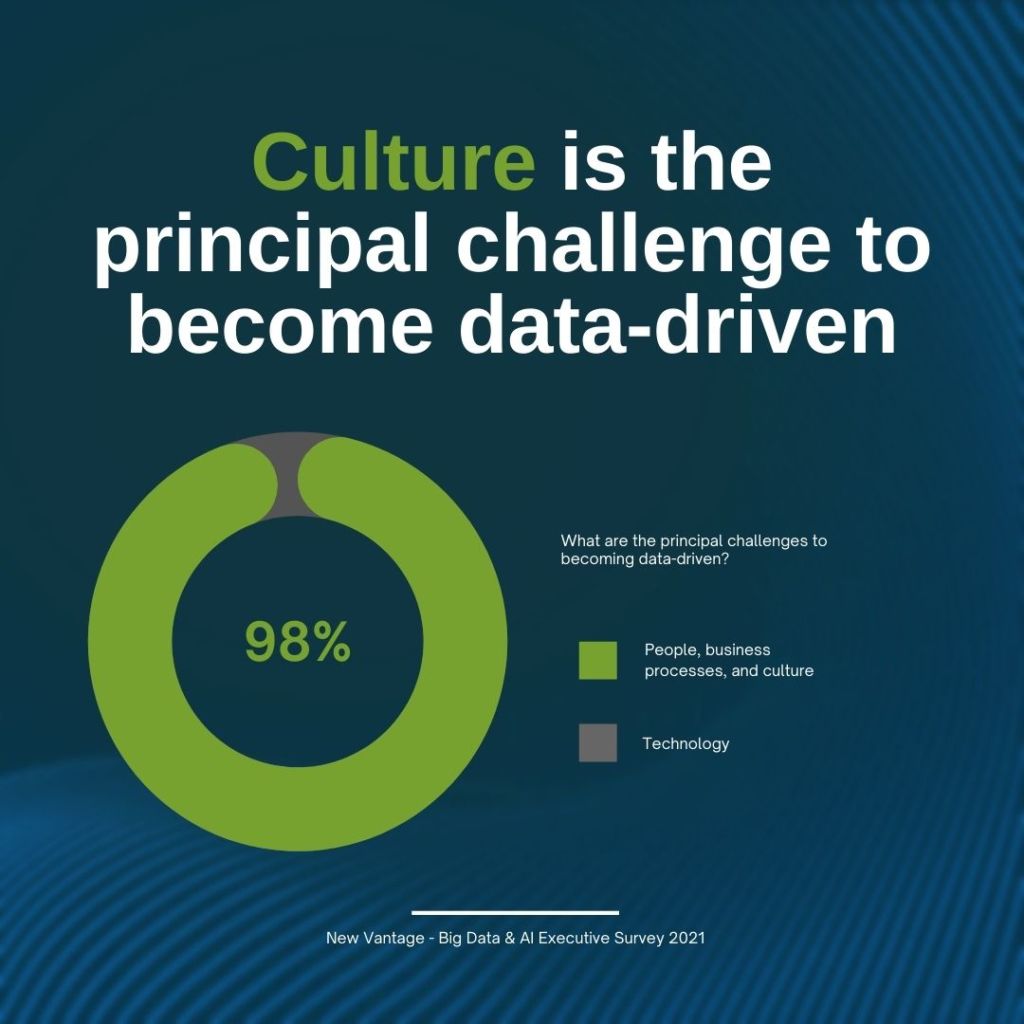 Sixteen full months into the pandemic, there are clear winners across all industries for those who were forced to accelerate or adopt digital business models.
Yet, transforming an organisation to be data-driven is still a struggle, even for those Fortune 1000, industry-leading firms polled, with respondents from the most senior corporate executives with oversight and responsibility for data.
Only 29.2% report achieving transformational business outcomes, with a decline of 13.8 percentage points of respondents saying that they thought their organization was data-driven than the year before.
The root of this slow progress: culture.
As with all change, culture begins at the top. The top leaders need to demonstrate how they place data at the heart of the organisation, make strategic decisions based on it, and be accountable for them.
#2 – Data culture is a driver for revenue growth
In an assessment of data culture, based on points assigned on three foundational disciplines or data search & discovery, data literacy, and data governance (.pdf, Alation State of Data Culture Report), top tier data culture organisations are more likely to exceed revenue goals, with 75% of respondents polled meeting or exceeding them.
The main challenges in the lower-tier companies are data democratisation and organizational silos, with a lack of analytical skills cited as the top challenge at low-tier companies (52%).
While these initiatives can be cascaded or taught, employees don't see eye to eye in how committed employers are.
#3 – Trust Gap: Employee and Employer don't see eye to eye
In the overwhelming urgency around digital transformation, the secret to success lies in the human element.
The trending insights on Covid-19 and the future of business found that a trust gap has emerged between employers and employees.
Simply: the view from the top is very different from what workers see on the ground (.pdf, BM Institute for Business Value)
While leaders are expecting more from transformation initiatives, the view from the top is very different from what workers are seeing on the ground.
Beyond just improving skillsets, there's an overestimation of how employers provide growth and strategic direction.
Sign up now: Data-Centric Leadership
As part of our new Discovery sericompaes, we're offering a free 90-min programme on Data-Centric Leadership in partnership with Valiantlytix, conducted by its director of data and analytics Dr Bhawani Selvaretnam and D Jungle People head of business Emily Chin.
SIGN UP NOW TO:
Discover why data-centric leadership is important
Understand considerations to drive data culture
Define data use cases for different functions
Equip skills and tools that support data-driven decision making